Breaking news! Rockstar have just officially announced by way of press release the next Grand Theft Auto for Xbox 360 and Playstation 3.
Take-Two Interactive Software, Inc., is proud to announce Grand Theft Auto IV, the next-generation console debut of the genre-defining Grand Theft Auto franchise. Developed by world-class designers Rockstar North, Grand Theft Auto IV will be simultaneously available for the PlayStation®3 and Xbox 360™ and is currently planned to be in stores in North America on October 16, 2007 and in Europe on October 19, 2007.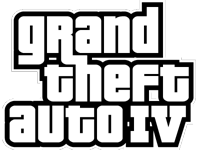 I've uploaded the GTAIV logo for your viewing pleasure, click the thumbnail for the full image.
So there we have it, Grand Theft Auto IV, that's 4, hopefully this will silence all the GTA5, 6 and 7 fools.
The official GTA IV website can be found at http://www.rockstargames.com/grandtheftauto4/
Also if you have noticed that little Xbox Live logo on the GTA4 website, it seems like it might not be for multiplayer (and probably won't be) but in another press release by Take Two it states: "Microsoft and Rockstar Games also forge strategic alliance to provide exclusive episodic content downloads on Xbox Live."