In yet another suprise announcement from Rockstar, Vice City Stories is after all a real game, it was confirmed by Take-Two in a press release earlier this afternoon.
New York, NY - May 10, 2006 - Rockstar Games, the universally-renowned publishing label of Take-Two Interactive Software, Inc. (NASDAQ: TTWO), is proud to announce Grand Theft Auto: Vice City Stories. Developed by Rockstar Leeds in conjunction with series creators Rockstar North, Grand Theft Auto: Vice City Stories will be available exclusively on the PSP system in North America on October 17th, 2006 and Europe on October 20th, 2006.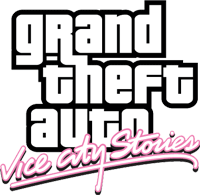 I've uploaded the GTAVCS logo for your viewing pleasure, click the thumbnail for the full image.
So later this year we will have a new (sort of) GTA game to play. I've made "VCS" section for The GTA Place, it will be themed as soon as we have some artwork and images. The pages we have already are the general information, artwork, and fan created art, so please send us your work if you've already made something, the best will appear on the page. It will be interesting to see what they change in Vice City this time, possibly a new time era too?
Shocked or suprised by this announcement? Discuss it in the forums.
Visit the official site at http://www.rockstargames.com/vicecitystories/