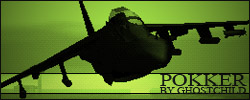 Ghostchild has made a great new San Andreas air acrobatics stunt video. His latest video, entitled Pokker is definitely a must see for anyone who loves watching aero-stunts.
An air acrobatic stunt video made by Ghostchild in 2006. Featuring some of the best air acrobatic stunts seen till this moment. Great editing and an adrenaline pumping song. Make sure you catch this one!
So head over to our downloads database and watch Pokker, it's in WMV format and just over 44mb, so it won't take too long to download as long as you aren't still on dialup, and if you are in that 10% demographic then it's time to upgrade. I watched the video and I have to say there is a lot of skill involved in pulling some of the stunts off.
It's also worth mentioning that a small group of members on our own forums are hoping to create a collaborational video. Currently they are planning two stunt videos, one for Vice City, and a more popular one for San Andreas, there's also an audition topic for those who are interested.
If you are interested them make sure you let everyone know by posting in the SA Community Video topic or the VC Community Video topic, whichever you can contribute to, or both if you can!
Tell us what you think of Pokker in our forums.