Tonight we can present to you the official box art for Vice City Stories. We can confirm this is real as it's been sent to retailers across the world for their use on product pages, and all the commercial gaming websites now have it.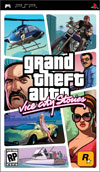 Judging by the Infernus on the cover, it looks just like either a 1978 Lamborghini Countach or 1982 Lamborghini Countach, which to me suggest a late 70's or early 80's setting.
Additionally, it appears from the box art that the bikers will be appearing once again, as well as possibly Umberto Robina, the Cuban gang leader. Expect to see many familiar faces in VCS. Stay tuned for more updates and screenshots coming soon.