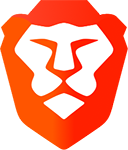 Want to browse the internet without ads, protect your privacy,
and
get paid for doing so?
Use
Brave Browser
.
By
Cryptecks
|
30th Aug 2004 at 22:39 GMT in San Andreas
|
Yep, I finally have got around to posting the second version of tnk's awesome fake map. This one has taken ideas from all of the community, and put them all into one super-map that is the most accurate with what we know so far. tnk has watermarked this version from the start, and there is also a very handy copy detection system that is just about impossible to get through. Anyway, this is the most accurate fake map on the info we know, so enjoy, and be sure to give tnk credit.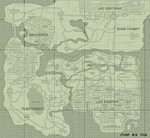 Submitted by tnk
and just incase you didn't see tnk's first version of this map, here it is, you can see it has a few mistakes which is what caused all the commotion about it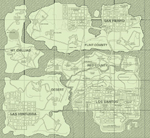 Browse more Website pages